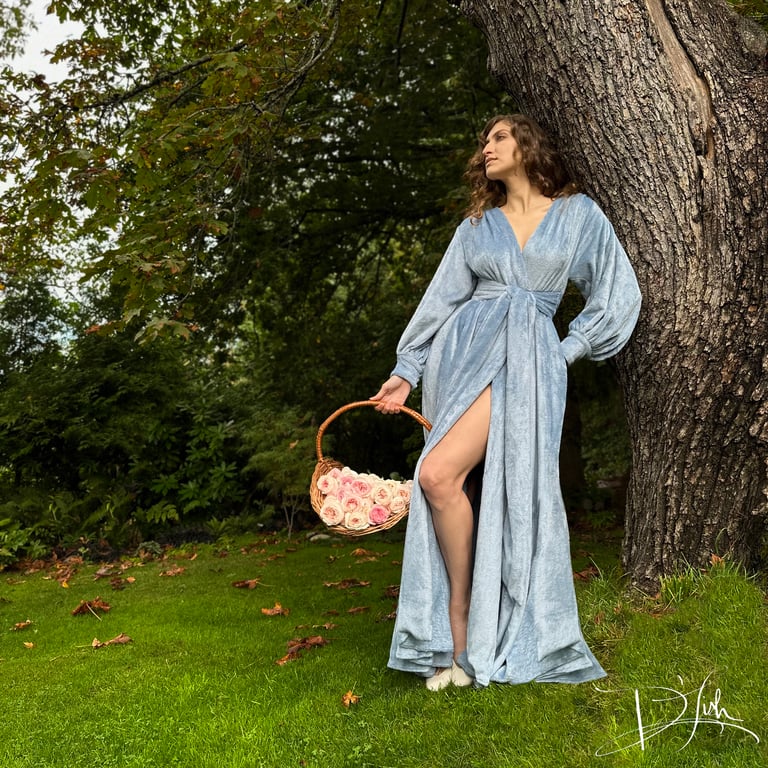 "Softest Blue" Felicia Supreme Dressing Gown
Our softest and most snuggly gown! The Felicia dressing gown is made with the plushest and most sensually appealing luxury fleece. The "Felicia Supreme" is the more-is-more version of our Felicia gown. An extraordinarily full skirt, wrap front, and buttoned cuffs. Deep pockets, and an attached sash.
We have saved a closeup look at this dressing gown on our Instagram stories, @catherinedlish
Available in the following sizes, along with Petite options for each size:
XS, S, M, L, XL, 1X, 2X, 3X
Now offering shorter lengths! We are pleased to announce the launch of our Petite sizes. The Petite sizes have a skirt that is shorter than our standard XS-4X sizes. For example: our size S is 40 inches from the waist seam to the hemline in front, and 45 inches from the waist seam to the hemline center back. The size S Petite is 35 inches to about 40 inches long (front/back).
Sizes in stock will show in the dropdown menu. If your size is sold out, please feel free to inquire via the contact form, and we will happily notify you when your color/size is restocked.
Fabric care: Luxury fleece fabric is washable. The fibers are extremely soft and fine. Please avoid heat for cleaning, heat can melt the fiber. We recommend machine wash cold and wash alone. Always without softener, as it can be trapped within the fibers and not rinse out. Regular powder/liquid detergents are fine, pods are not recommended. Air dry and then into the dryer without heat to fluff your gown.
Often used for baby clothing/blankets, minky fabric is 100% polyester, 100% vegan.
The Felicia Supreme may travel in a vacuum bag to fit into a standardized shipping box.
We suggest flat storage for your Felicia gown, hanging can stress the seams.
In stock "available now" gowns generally ship 1-2 days from date of purchase. Our usual shipping days are M/W/F. Expedited shipping is also available.
Also, we will require a telephone contact number, this is mandatory information for our shipping labels (for our carrier to contact you if there is an issue with delivery). All of your personal information will be kept confidential, but we will not be able to ship to you without it.
All items shipped with insurance and signature required upon delivery unless otherwise requested. If you choose to waive the required signature, the shipping company will not be able to provide coverage if your package is lost after delivery.
We do ship globally. Your government's customs officials may charge import tax. Our shipments within the US will generally arrive in 2 business days from time of shipment. Our shipments outside of the US generally arrive in about a week or less.
No refunds or returns on gowns. Please feel free to ask any questions you may have prior to purchase, there is a contact form here at the store to reach us via email.